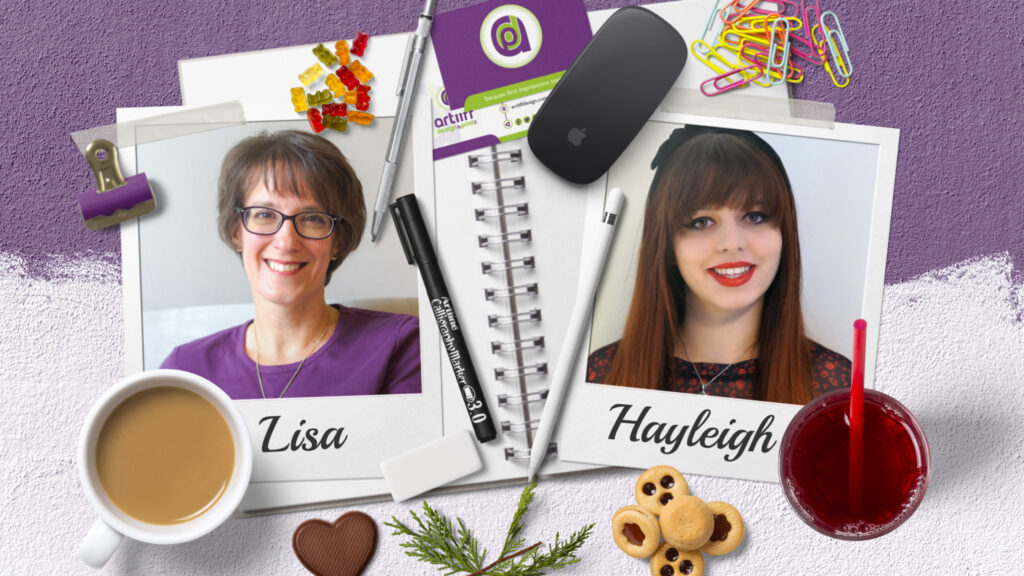 As the team here at Artliff Design & Print Ltd continue to grow, we thought it might be nice to know us just that little bit more. This is the first in a series of blogs introducing us all, starting with the design team.

Obviously, the Design Department is the lifeblood of the business (of course I would say that, I am a bit biased, LOL!!) we take all our lovely clients projects and ideas and bring them to life, helping them to achieve their own marketing goals in order to grow and develop their business. Here are the two geniuses behind the lovey big Apple Mac screens making that happen.
Lisa Artliff – Senior Designer
Hello, I am Lisa Artliff the Senior Designer here at Artliff Design & Print Ltd and I make sure that all our client's marketing materials are the best they can be, ensuring they are consistent with their brand identity for maximum impact. I love all things creative and am absolutely nuts about branding and brand identity. People who know me, know I looooovvvveeee to talk about the power of branding for any business. There's nothing I enjoy more than creating a new brand identity for existing or new businesses.
I have been a graphic designer for over 30 years. I fell in love with the profession from my first college course at age of 16, and if anyone asks what my dream job was when I was a kid, I have to say it was to be a graphic designer.
What Motivates you?
Spending time with my family; being creative every day both personally and professionally; seeing my clients happy and proud with their new brand identities and marketing materials, and adventures in our campervan 'Macy'.
The favourite part of my job?
This is when I see my clients grow in excitement when we are developing their new brand identity. Then ultimately when it is completed and they can start to use it across all their marketing materials and they realise how powerful this can be for them. This just make me smile and gives me a great send of satisfaction in my job. Its what I do it for.
One bit of advice for businesses?
It has to be consistent with your brand identity. Make sure that your brand is across all your marketing materials, digitally and printed, and this will pay dividends in the long run. The more your customers see you and recognise you across all platforms, the more they will think of you when they need your services. Subliminal imagery, like your brand identity everywhere, is very powerful. Remember the power of 7…It takes an average of 7 interactions with your business before they even start to think about buying from you.
My favourite Colour?
Really, do you need to ask…Purple of course. I love it! It makes me happy, and I just love it. It is a creative colour and definitely inspires me.
Tea or Coffee?
Oh tea every time!!! Don't mention coffee to me unless you have brought me a lactose free or Soya Latte from Costa or Starbucks (other coffee making establishments are available).
Favourite Biscuit?
OOOHH that is hard…. It's between a chocolate biscuit or a custard cream…but, if push came to shove, I think my hand would go towards the choccy biscuit!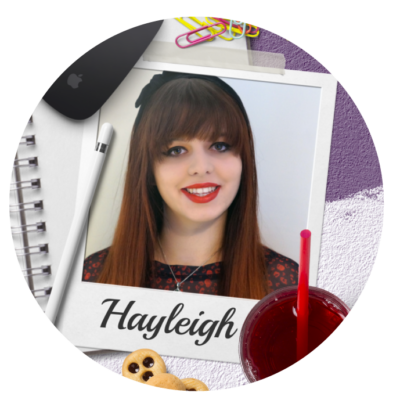 Hayleigh Pollard – Creative Artworker & Administrative Assistant
Hi, I'm Hayleigh, I have 6 years of experience in the design & print industry. I love working in all things digital, from creating digital artwork to video design. At college, I completed an HND in interactive media, during this course I got to expand my knowledge and skills in web and digital graphic design, digital illustration, 3D modelling and animation, and video design.
I have always been into design and technology and always make sure I'm up to date with the latest trends. I'm really loving my time at Artliff and am looking forward to what the future holds.
What motivates you?
Learning new things. Training has always been something I am passionate about, from online systems to new tools on design software… I want to learn it all!
Favourite colour?
Pantone 3541 C or Teal – this colour is actually also going to be the colour I use for my wedding next year!
Favourite part of your job?
Being creative, creating adverts, graphics, and videos. I am learning so much at Artliff design and it helps working under a super talented senior graphic designer!
One bit of advice for business?
Keep your designs relevant, make sure it reflects your business or brand and make it visually appealing to your client. The last thing you want to do is advertise your business and people not take you seriously.
Tea or coffee?
Neither, I hate them both! Pepsi max all the wayyyy…
Favourite Biscuit?
Custard cream – which doesn't make sense as I'm not the biggest fan of custard or cream!